InterServer Web Hosting Review: Worth in 2022?
InterServer is a web hosting provider that seeks to create an all-in-one experience for its users. It has been providing hosting services for 21 years, since 1999. Not only does InterServer offer shared hosting, but also dedicated servers, quick servers, and cloud hosting.
On top of hosting, InterServer also features email, domain names, and a website builder.
But is all of that enough to get our recommendation?
We personally test every web hosting service that we review — judging the effectiveness of its customer service department, its uptime, speed, and overall usability to help determine which one is right for you and your business.
How did InterServer stack up against its biggest competitors like Bluehost and GoDaddy?
Read on to find out!
General Info & Hosting Overview
---
| | |
| --- | --- |
| SPEED: | 522 ms (November 2019 to October 2020) |
| UPTIME: | 99.87% (November 2019 to October 2020) |
| SUPPORT: | 24/7 Live Chat, Email, Contact Form, Knowledge Base |
| APPS: | WordPress, Drupal, Mambo, Joomla, Magento, PrestaShop, etc. |
| FEATURES: | Inter-Proxy Caching, Intershield Security, Unlimited Email Accounts, Unlimited Storage and Bandwidth, Site Builder, Unlimited Domains, Weekly Backups, Cloudflare CDN, 1-Click Installs for 450+ Cloud Apps |
| HOSTING PLANS: | Standard, Pro, ASP.net, Email Hosting, Cloud VPS, Dedicated, Boost Email Hosting, Student Web Hosting, eCommerce Hosting |
| SITE TRANSFER: | Free |
| PRICING: | Starting at $4.00/mo (with a 36-month plan). Renews at $7.00/month. |
Pros of Using InterServer Hosting
InterServer has quite many pros going for them. Let's have a more detailed look at each of them.
1. Free Email Accounts
InterServer provides email accounts for free. What's more, these accounts are unlimited, with no cap imposed on the end-user.
This is not just great for the branding of your business, but it's also one less monthly expense that you have to pay. This way you don't have to use a third-party service like Google Workspace (formerly known as G-Suite) to have a branded email account that matches your domain.
2. Free Site Migration
Not every business that signs up with InterServer is going to be building an all-new website. Some of them have established sites on other platforms and will need to transfer those over to InterServer.
That's another service that InterServer includes for free.
Free migration is something that we always like to see in a web host provider. It helps to ease the burden of transitioning your site.
3. Solid Speed of 522 ms
Among uptime, speed is also an important factor while choosing a host. Not only does Google penalize sites that load too slow, but also users are more likely to leave your website if it takes too much time to respond.
For example, according to one study, website conversion rates drop by an average of 4.42% with each additional second of load time (between seconds 0–5) and the best speed for your conversion rates is 0–4 seconds.
InterServer claims that its service is specially optimized to provide users with the fastest website speeds possible. Of course, we wanted to measure that ourselves and created a test site on their platform which we continuously monitor over an extended period of time.
It seems that their claims are true. InterServer has delivered a solid average speed of 522 ms for the last 12 months.
This is a huge improvement, especially compared to 2018 and 2019 data, where their speed was way slower. For example, in January 2019 it took an average of 1.7 seconds to load our test site.
4. 24/7 Live Chat Support
Live chat is an essential communication option on any business' website. Not only is it the fastest way to contact customer support but it also plays a huge role in customer satisfaction – live chat has the highest consumer satisfaction rate at 92%.
We went hands-on with InterServer's 24/7 live chat support and were happy with what we encountered.
It took InterServer about 5 minutes to respond. Definitely not the fastest response time we've seen, but still quick enough to keep our attention and not go looking for answers elsewhere.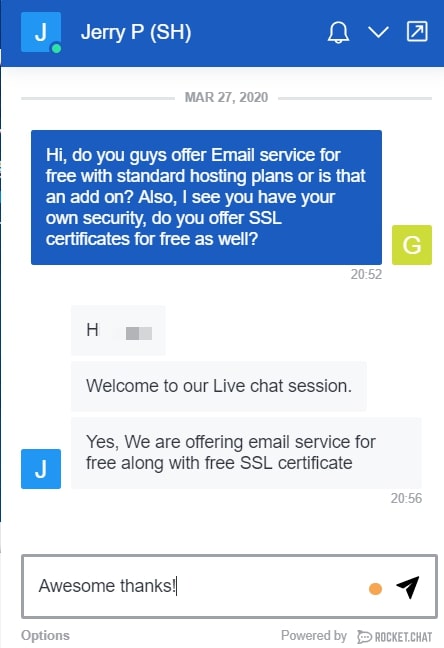 What followed was a pleasant chat with the InterServer support team, during which they provided us with prompt and complete answers.
On top of live chat, InterServer also has a vast knowledge base, phone support, ticketing, and email option.
5. 30-Day Money-Back Guarantee
We always like to see a web host that is willing to stand by its service and provide a no-risk situation for new subscribers.
InterServer gives new subscribers a 30-day money-back guarantee – plenty of time to test InterServer out and make sure that their customer service, uptime, and speed are to your liking.
6. Free SSL Security and Intershield
All of InterServer's hosting plans come with a free SSL certificate. This is an added security boost at no cost that goes a long way toward establishing trust with your potential customers.
If you don't have an SSL certificate, Google could list your site as being unsecured, which is a great way to drive off customers before you even get started.
InterServer also comes with Intershield security.
This is a security system developed by InterServer which performs several vital security functions, including:
Blocking web attacks
Scanning for viruses
Includes a firewall built with machine learning
Pulls from an in-house malware database
7. Unlimited SSD Storage Space
More expensive services like Kinsta tend to limit the space that you can have on every plan. You're paying more, but you are also limited to how much information you can put on your site.
InterServer places no such limits on subscribers.
All shared hosting plans come with unlimited SSD storage space.
8. Free Website Builder
Another bonus to using InterServer is that the website builder SitePad is included with your subscription at no additional charge.
This is perfect for newer businesses that are not migrating a site onto the service. If they're just starting up and looking to build a website, they can build and host it all through the same platform.
9. Easy to Use cPanel
InterServer uses cPanel for a dashboard interface, which is popular with a lot of hosting services.
The first thing you'll notice is that cPanel's main page is very busy. It can even feel overwhelming at first.
However, you don't need to search through endless items to find what you're looking for. The search bar at the top makes it easy to find a specific function. Just type what you're looking for into the search bar and cPanel will immediately pull it up for you.
There's a reason why so many services use cPanel. It's simple to use and can be picked up by anyone thanks to its layout and search function.
Cons of Using InterServer Hosting
Now it's time to check out the downsides of InterServer.
1. Poor Uptime – 99.87%
Uptime is crucial when choosing a web hosting provider. After all, you want to make sure that when you're paying for a service to keep your website on the Internet, it's actually keeping your website on the Internet.
Most hosting providers that we review claim an uptime of 99.9%, but we still like to do our own test to provide you with the most complete and accurate information possible.

Unfortunately, InterServer delivered a quite poor uptime of 99.87% for the last 12 months (with 12 hours of downtime and 109 outages).
Here's the last 12-months average uptime:
October 2020: 99.88%
September 2020: 100%
August 2020: 99.96%
July 2020: 100%
June 2020: 99.66%
May 2020: 99.99%
April 2020: 100%
March 2020: 99.98%
February 2020: 100%
January 2020: 100%
December 2019: 99.96%
November 2019: 99.24%
2. Free Domain Not Included
While it is possible to purchase a domain name through InterServer, they do not offer free domains.
To get a domain, you're going to have to pay, but InterServer offers these domains at a discount. Typically, you're going to spend around $15-$20 for a domain name for one year using a service like GoDaddy. With InterServer, you're paying about $7.99.
However, there is a catch. You will pay $7.99 only if you sign up with their long term plans. In case you want to sign up on a monthly basis, then you will have to pay more. For example .com domain would cost you $11.00 on a monthly plan.
3. Lack of Data Center Locations
The physical location of data centers can majorly influence your website's speed and uptime. Meaning, if your server is far away from its users, it will take more time for information to arrive at its destination. Since the process of obtaining data can be lengthy due to further locations, it can also make the site's page load time slower, and that in turn creates a negative user experience.
Currently, InterServer has its servers housed in four data centers, all located in the US: three servers in Secaucus, NJ, and one in Los Angeles. That is not much, especially compared to some hosts who have 20+ data centers all around the globe.
So, if you're located outside of the US or if most of your web traffic is formed by non-US visitors, you might re-think whether InterServer is for you.
4. Misleading Price Lock Guarantee
InterServer allows you to keep the price that you signed up with through its price lock guarantee. According to them, this means that your initial sign-up price is never subject to change.
However, on a closer look (and after talking to their customer support agent), this seems not to be true, and the guarantee is only valid during the signup period. So, for example, if you sign up for their monthly plan ($5/mo), the price lock guarantee is only valid for a month, and after that, you'll have to pay the renewal price of $7 per month, which will no longer increase.

The same logic applies to their annual plans.
InterServer Cost, Plans, and Payment Methods
InterServer comes with only one shared hosting plan:
---
Standard Web Hosting Plan
Pricing
$4/month (with 3-year commitment)
Websites
Unlimited
Bandwidth
Unmetered
Storage
Unmetered
Email Accounts
Unlimited
Other Features
• Free SSL
• Weekly Backups
• 450+ Cloud Apps
• Unlimited FTP Accounts, and more.
---
Quick Facts
Domain: No.
Ease of Signup: Easy.
Money-Back: 30-day money-back guarantee.
Payment Methods: All credit and debit cards and PayPal.
Hidden Fees and Clauses: The price lock guarantee is misleading.
Upsells: No upsells.
Account Activation: Quick account activation.
Control Panel and Dashboard: cPanel.
Installation of Apps and CMSs (WordPress, Joomla, etc.): One-click installs for 450+ cloud apps.
Do We Recommend InterServer?
Yes, we do, sort of.
With InterServer, you're getting a highly secure host with quality customer service. Not to mention added free bonuses like email and site migration.
The ability to build your site, get email accounts, and host the website all through InterServer makes this an all-in-one service, which is always preferred. Moreover, InterServer has shown solid page load time.
While the domains are not free, InterServer still provides them at a discount, so it's not going to make too much of a difference.
A much bigger downside to consider is their poor uptime, which unfortunately is quite crucial while selecting a host. However, if you're willing to look past it, then InterServer should satisfy all your other hosting needs.